As the marketing world has grown increasingly "digital-first," data has become more pervasive, and as it surges in scale, marketers find it more difficult to ascertain its value. One would think that with more data, understanding value would be much easier; however, many know this isn't true. When your audiences range from first-party CRM data to third-party acquired data and everything in between, without a defined identity strategy, you will lack clarity around whom you are talking to and how they prefer to communicate.
The influences of a digital-first world are having a direct impact on advertisers. The promise of more accurate and scalable data is becoming a reality through people-based marketing but understanding how to best leverage identity across various data sources, platforms, and customer touchpoints are becoming increasingly complex.
Typical challenges faced by advertisers include:
How do I activate my offline CRM data for digital marketing and maintain a persistent view of my customers?
What is the best way to leverage CRM data in digital marketing tactics, such as display, where cookies are mixed in?
How can I leverage my website data to better personalize digital marketing, while maintaining knowledge of the user's identity?
Is third-party data a worthwhile investment, and how do I best utilize this data for prospecting tactics?
While this list is only a small sample, it illustrates the complexity of audience activation. A well-designed identity strategy that is enabled by technology can tie disparate forms of ecosystem data together. Data Management Platforms and the newer space of Customer Data Platforms can make this a reality when combined with a persistent global view of people.
You can think of an identity strategy as a playbook, structured around insights based on audience analytics to assess value, which all ladder up to tactical business use cases. This might sound daunting, but it's not rocket science.
Let's discuss how you can best plan this out.
1. Start with the technology
Without getting too deep, DMPs are cookie-based data platforms that maintain first- and third-party data not tied to a known identity. CDPs, on the other hand, are good at maintaining known first-party personally identifiable information (PII), such as first name, last name, address, email, etc. You can think of a DMP as the central command center for cookie-based activation and driving connected experiences across paid media and the website. A DMP can help augment your prospecting use cases with third-party cookie data from a variety of vendors in the market.
A CDP will bring together your website data and cross-channel media data, and (most importantly) it will enable you to link this all to a known view of a customer. Whether it be someone who has raised her hand to receive an email communication or someone who purchased a product, this view of identity can be stitched together in a secure (and anonymous) way (i.e., any reference to PII is removed).
The interplay between a DMP and CDP is critical and centralizing all of this data allows you to focus on studying audience segments across various data sources to find pockets of value.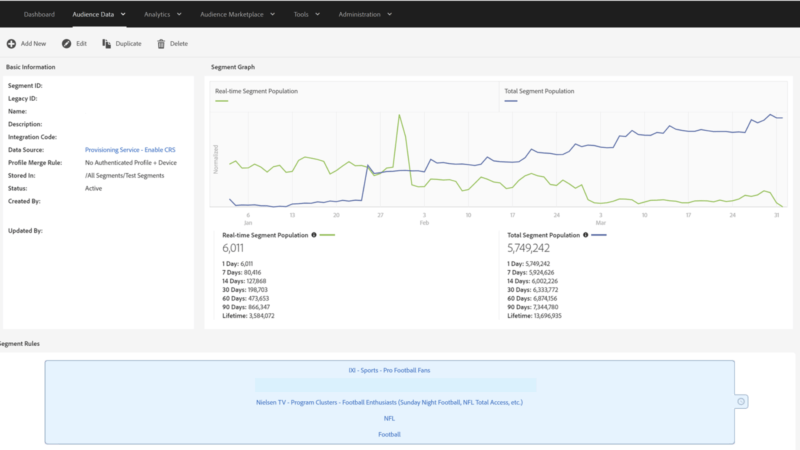 2. Understand audience use cases
Now that you have a basic understanding of the technology, you should understand use cases around audiences and how to start segmenting your data. There are general buckets of data you will come across. Everyone has different versions of these buckets; however, they represent the most common audience use cases.
First-party offline CRM – This is your most valuable data asset.

Examples: Account records, call center data, loyalty data

First-party online authenticated

Examples: Website conversion data linked to a logged-in account, email, and CRM loyalty data

First-party online anonymous

Examples: Digital media impressions, Website visitation data, and mobile data

Second-party

Examples: Direct purchases of audiences (e.g., cookies) from another data provider and publisher, where you now own the audience

Third-party

Examples: Audiences data purchased to target against and use for analytics rights; however, unlike second-party data, you do not own the rights to the audience (e.g., cookies)
3. Assess the value of this data
Now that you have a basic knowledge of different types of data and how they can be bucketed, it is time to start assessing value – a key to defining a people-based audience strategy. Value can be assessed in multiple ways, varied by industry-specific KPIs. As you will come to see, scalability is the largest driver impacting value for any data asset.
Assessing value requires building an analytics framework, which we will discuss in the next part of this series, to start evaluating your data and make recommendations on the best way to activate it across your organization.
Sunil Rao, Vice President of Analytics at Merkle, also contributed to this piece.
About The Author

Marc Rossen is a Vice President and M1 Data Science Lead for Merkle focused on transforming our clients marketing through people based marketing strategy and activation. The M1 Data Science team is experts in people based addressable data, MarTech platforms, and application of analytics to drive change for global marketers. Prior to Merkle, Marc led strategic relationships with global Omni-Channel marketers at Epsilon.