Stock Market Technology Center is a team of first-class specialists in financial area. It's doubly pleasant when professional grows right in company. One of them is Dmitriy Krupenko – a business expert, who came to ETC 5 years ago and became employee in call center, being a student. Since that time Dmitriy began to trade in financial markets, create his strategies and train customers of trading.

Rapidly climbing career ladder, he became a successful manager, and then director of company's representative offices in major cities of the country. For this moment Dmitriy Crupenko is heading in office company in the capital of Ukraine – Kyiv. In 2019 he became a finalist in the TOP-100 rating "Pride of Ukraine. Men" in the category "Science and Education". Dmitry Krupenko – a financier, often acts as a speaker on finance for a wide audience, actively publishes articles in the media.

Dmitry Krupenko – a financier and an author of numerous strategies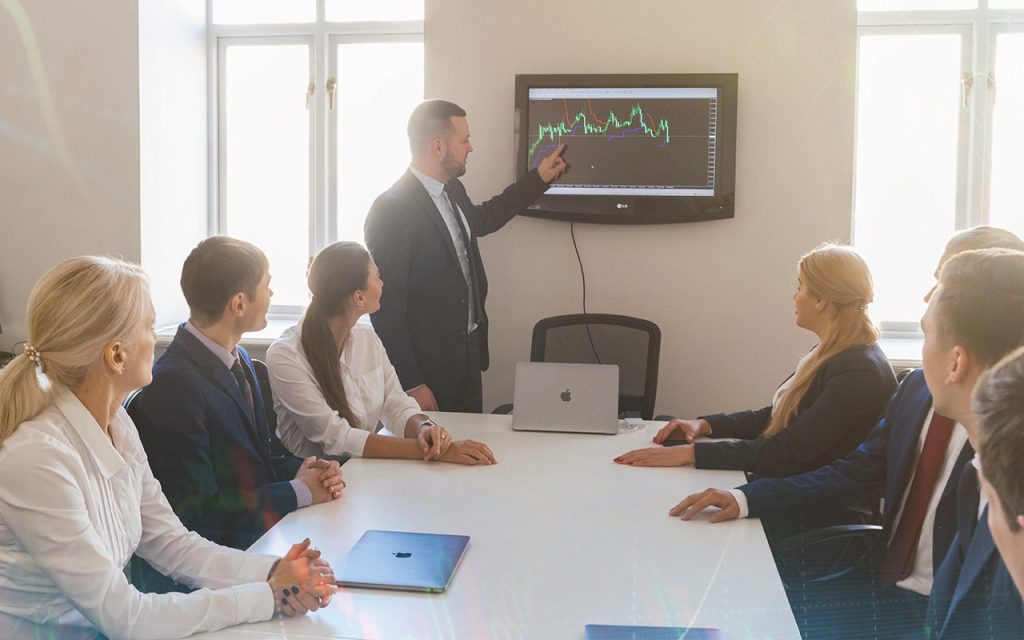 "Having a trading system is already half of the success," says Dmitry. During his practice, he developed more than 20 strategies. Most of them are based on moving average, oscillators such as MACD and Stochastic. Dmitry Krupenko is a business expert who analyzes in detail and studies currency pairs with commodity currencies such as NZD AUD. After a detailed analysis, he was one of the first to predict the fall of the British pound before the announcement of the results of the referendum on Britain's withdrawal from the EU in the summer of 2016.

Dmitry Krupenko systematically passes additional specialized training, improves qualifications, developing his skills. He applies practically all received knowledge. It allows him to share experience and train beginner traders who, thanks to Dmitriy, become highly qualified specialists in the field of financial markets.

Dmitry Krupenko: a business expert conducts training
Dmitry Krupenko, in spite of his young age, can be called a successful person in any aspects. He realizes the importance of improving the financial literacy of people. His public speeches and advice on capital management and investment are paying off. More than 300 clients trained by Dmitry successfully trade and earn in the financial markets. During his practice, he also conducted about 100 financial literacy workshops within the Stock Market Technology Center and beyond.
"In trading, the psychological component plays no less role than knowledge and skills", –  says Dmitry Krupenko. The financier not only teaches the basics of trading in his classes , but also carries out work with the client on the psychological aspect of trading in financial markets. According to Dmitry's experience, students who have perfectly mastered the theory can refuse to trade only because they do not withstand psychological stress and are not able to keep their emotions. He developed his own method of resisting stress in financial markets. Go to Dmitry Krupenko's personal site to learn more about training or to sign up for a consultation.