Producer and CEO Amillidius Elvira Gavrilova, together with her partner in the Nanojy women's clothing brand, Julia Lyatavskaya, created fresh flower masks.
We talked to the women and found out why they created such an excellent collection and how they were able to package it for a charity project.
Elvira, we know that you have been doing the Charity Calendar project for many years. Previously, it was the theme "Seasons", as well as the theme "Peoples of the World". The hottest topic this year is, of course, the coronavirus. You have created 12 unique natural flower masks. Tell us who participated in the project and what is your project aimed at?
E.G.: Women and children from all over Ukraine took part in the Charity Calendar project. Among them are a business woman, teachers and models. Thus, women from completely different spheres participated in our project. An individual look was selected for each participant — a mask made of fresh flowers, viburnum, leaves. Soon you will be able to see everything with your own eyes!
Julia, tell me, how long did it take you to create each mask?
J. L.: It took me from several hours to several days to create each mask, depending on the complexity.
Tell us who took part in the project.
E.G.: We will not only tell, but also show.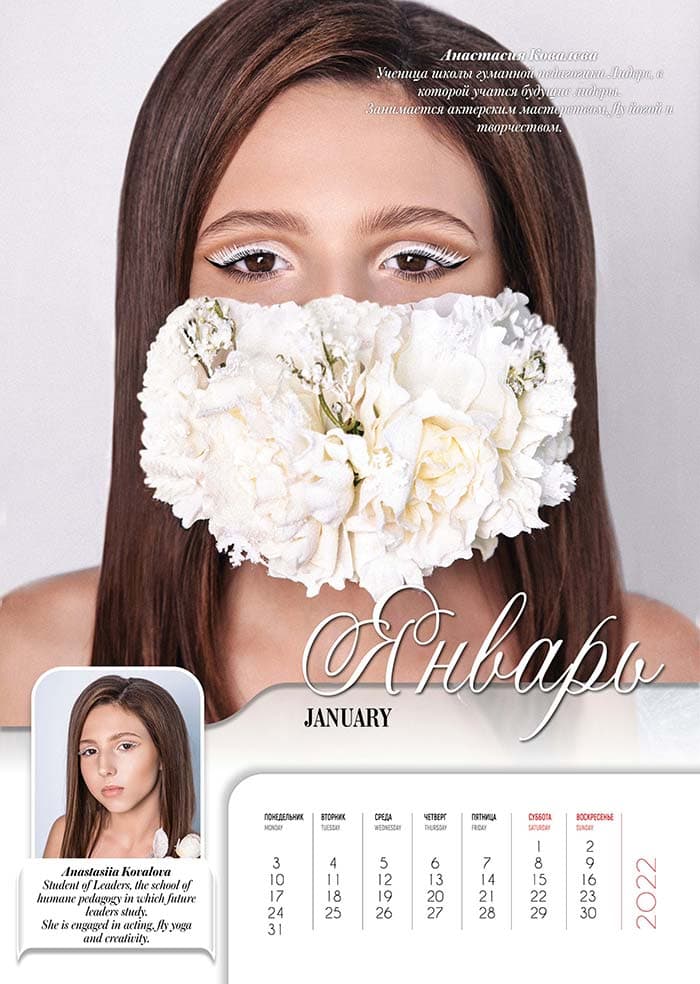 January – Anastasiia Kovalova: Student of Leaders, the school of humane pedagogy in which future leaders study. She is engaged in acting, fly yoga and creativity.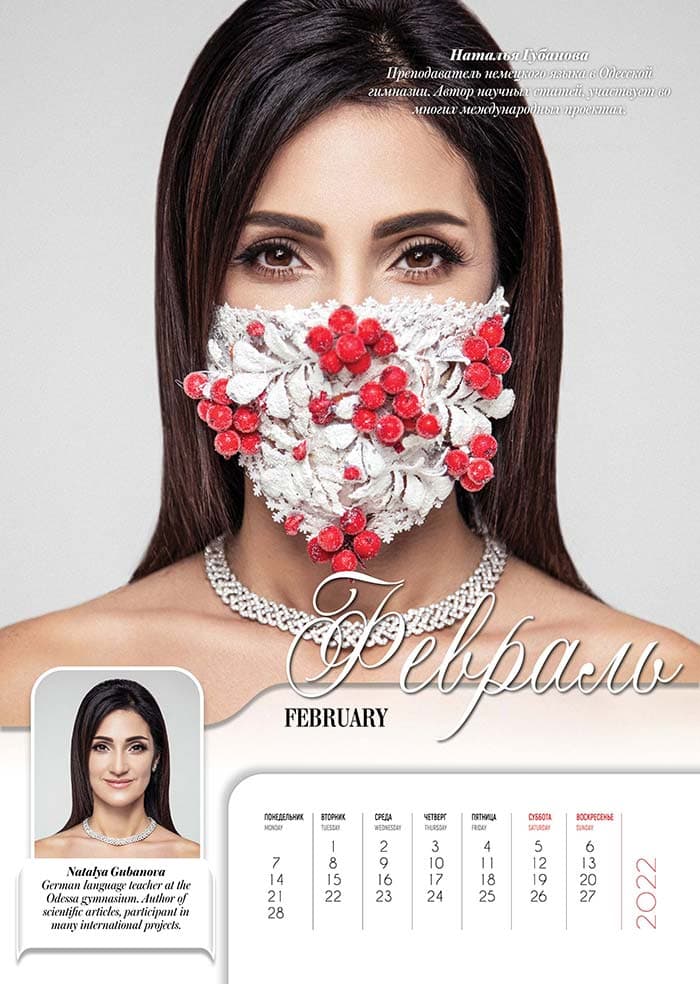 February – Natalya Gubanova: German language teacher at the Odessa gymnasium. Author of scientific articles, participant in many international projects.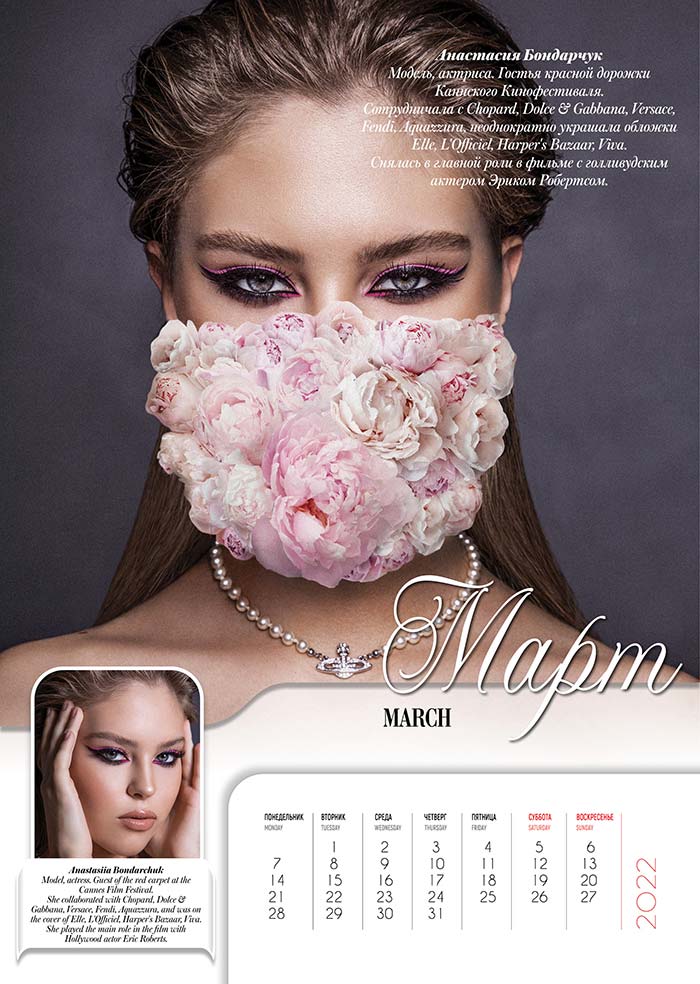 March – Anastasiia Bondarchuk: Model, actress. Guest of the red carpet at the Cannes Film Festival. She collaborated with Chopard, Dolce & Gabbana, Versace, Fendi, Aquazzura, and was on the cover of Elle, L'Officiel, Harper's Bazaar, Viva. She played the main role in the film with Hollywood actor Eric Roberts.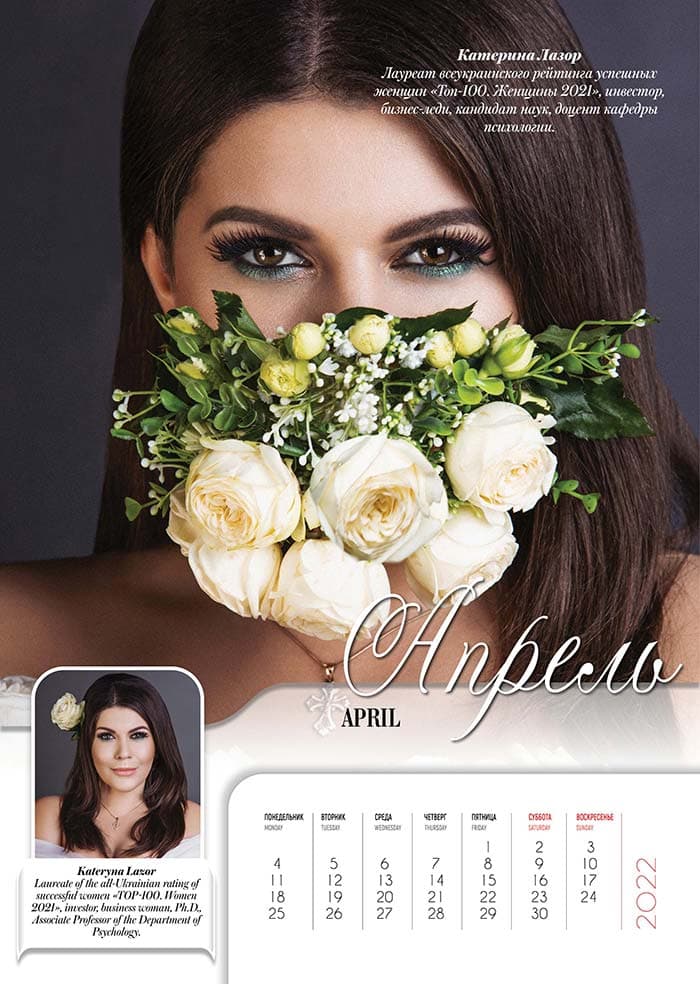 April – Kateryna Lazor: Laureate of the all-Ukrainian rating of successful women "TOP-100. Women 2021", investor, business woman, Ph.D., Associate Professor of the Department of Psychology.
May – Karyna Simonyan: Odesa Metropolitan School student. She goes in for tennis, dancing and studies English and French.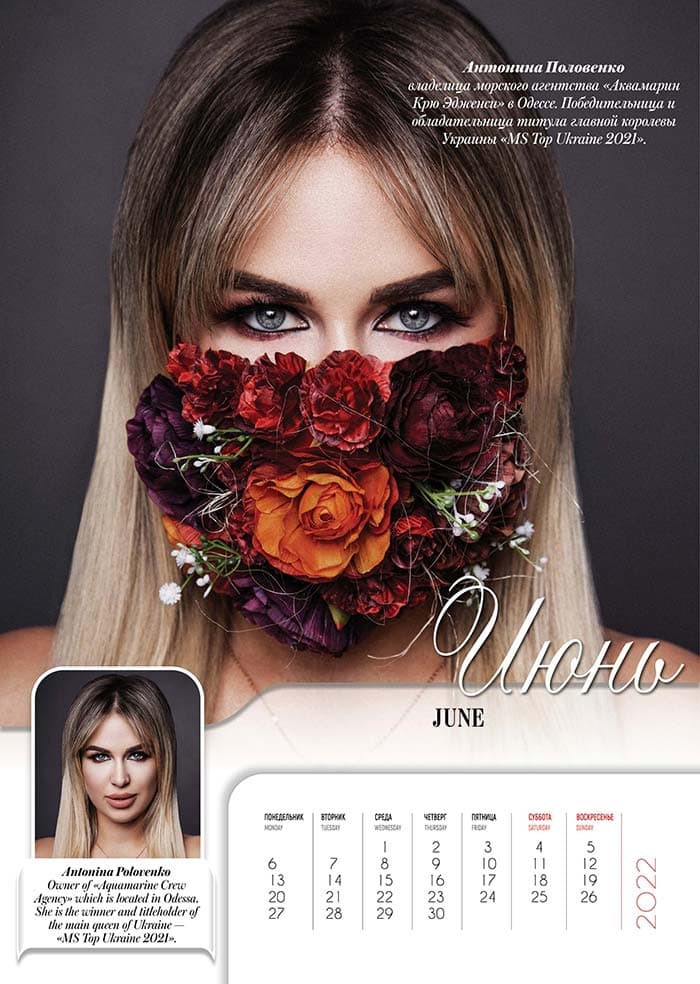 June – Antonina Polovenko: Owner of "Aquamarine Crew Agency" which is located in Odessa. She is the winner and titleholder of the main queen of Ukraine — "MS Top Ukraine 2021".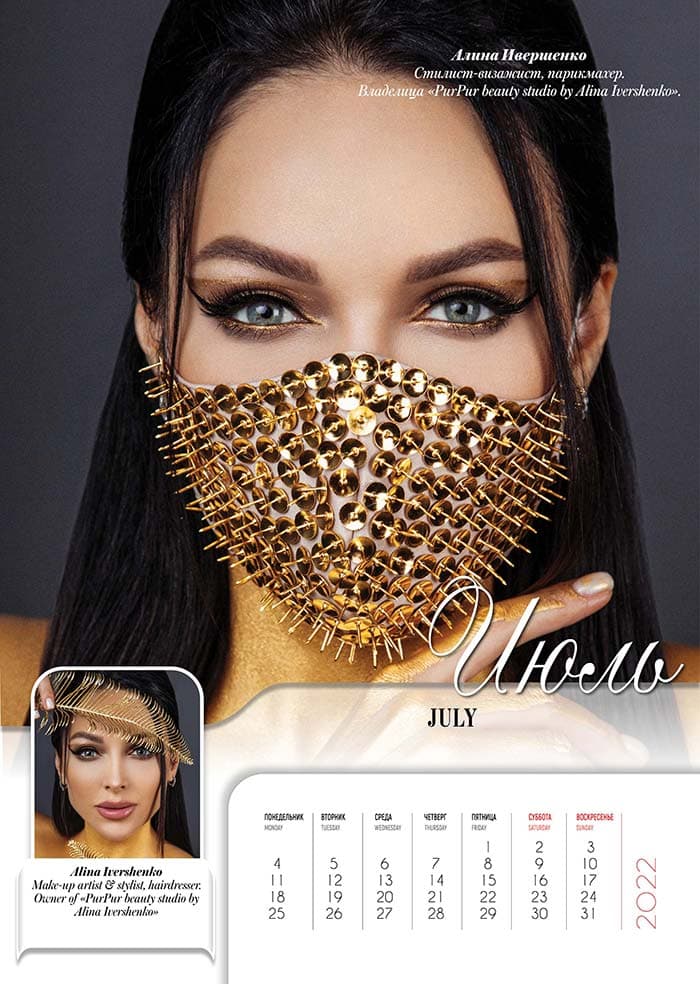 July – Alina Ivershenko: Make-up artist & stylist, hairdresser. Owner of "PurPur beauty studio by Alina Ivershenko".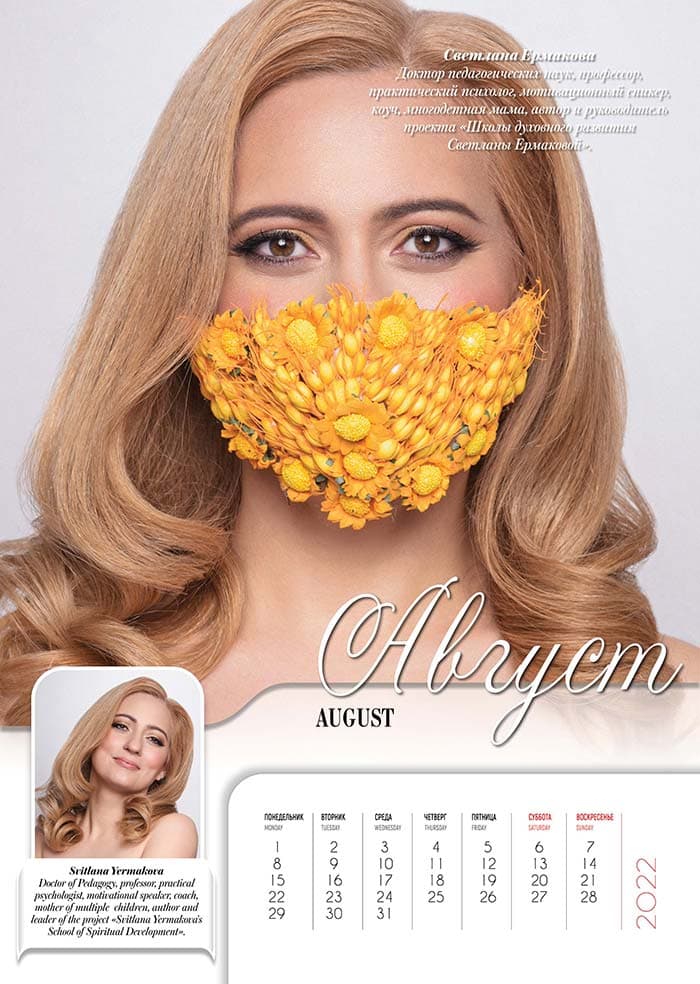 August – Svitlana Yermakova: Doctor of Pedagogy, professor, practical psychologist, motivational speaker, coach, mother of multiple  children, author and leader of the project "Svitlana Yermakova's School of Spiritual Development".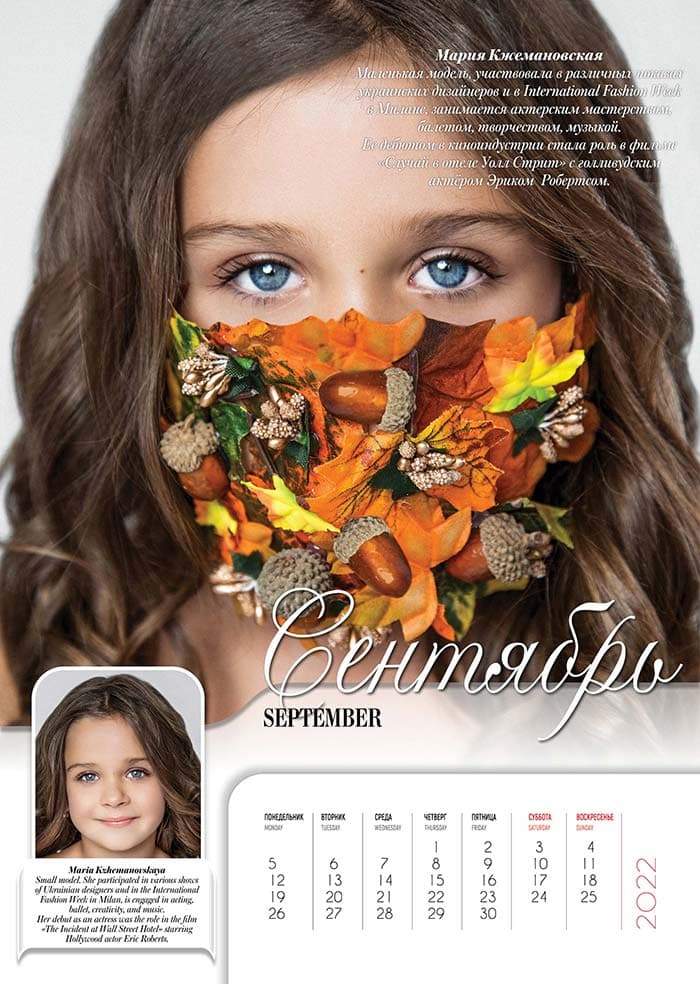 September – Maria Kzhemanovskaya: Small model. She participated in various shows of Ukrainian designers and in the International Fashion Week in Milan, is engaged in acting, ballet, creativity, and music. Her debut as an actress was the role in the film "The Incident at Wall Street Hotel" starring Hollywood actor Eric Roberts.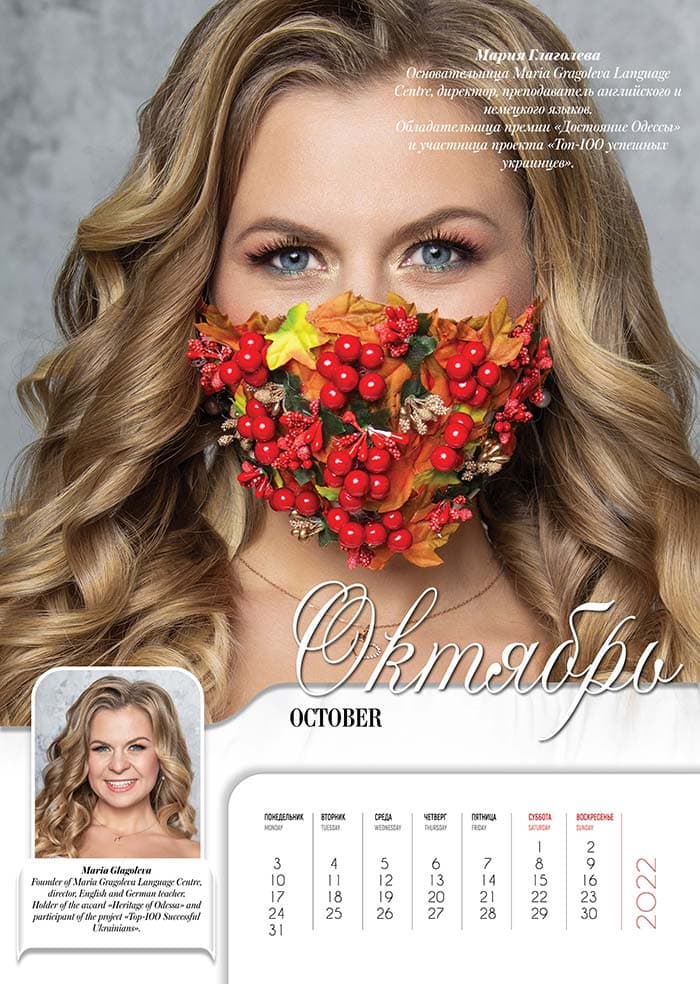 October – Maria Glagoleva: Founder of Maria Gragoleva Language Centre, director, English and German teacher. Holder of the award "Heritage of Odessa" and participant of the project "Top-100 Successful Ukrainians".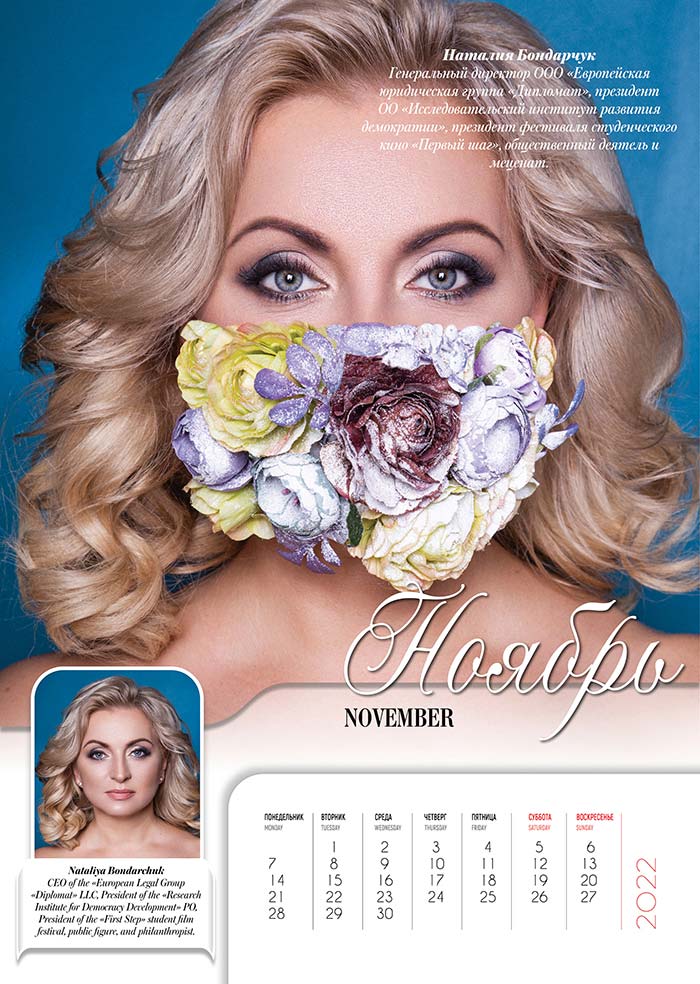 November – Nataliya Bondarchuk: CEO of the "European Legal Group "Diplomat" LLC, President of the "Research Institute for Democracy Development" PO, President of the "First Step" student film festival, public figure, and philanthropist.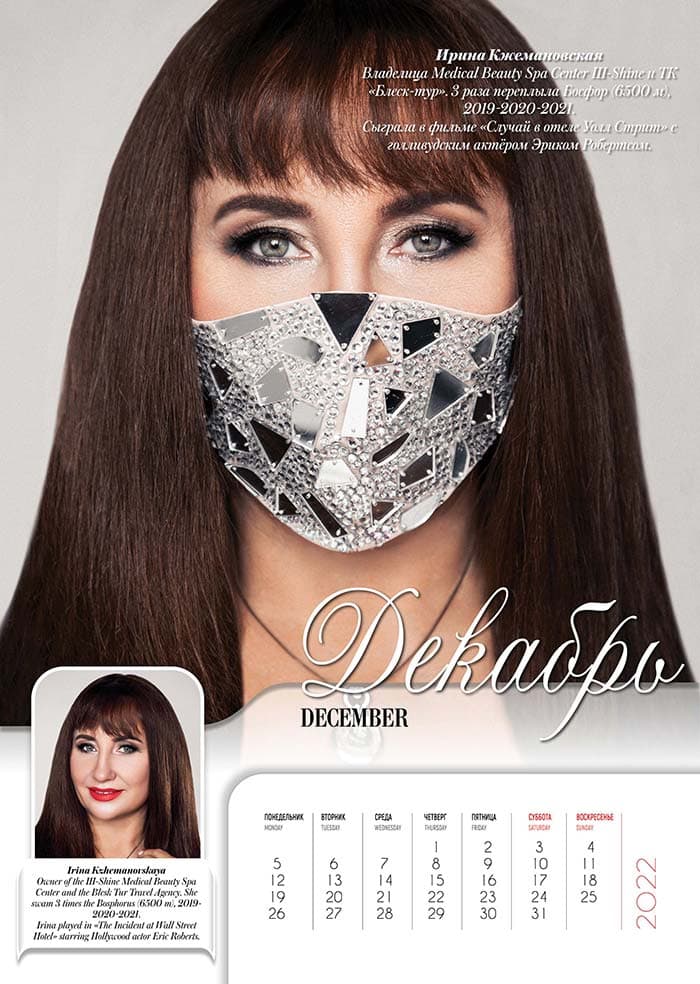 December – Irina Kzhemanovskaya: Owner of the Ш-Shine Medical Beauty Spa Center and the Blesk Tur Travel Agency. She swam 3 times the Bosphorus (6500 m), 2019-2020-2021. Irina played in "The Incident at Wall Street Hotel" starring Hollywood actor Eric Roberts.
The goal of the Charity Calendar project is to raise money for charity. Every year Elvira Gavrilova and her team help children from different orphanages. As a rule, this is Odessa, since one of the central offices of Amillidius is located there. Once a year, all Charity Calendar members gather for a thematic photo shoot. The money from its implementation is transferred to orphanages or goes to gifts for kids. This year the team plans to visit several orphanages for St. Nicholas Day.
The project was made by
Founder of the project: Elvira Gavrilova
Project Manager: Tatiana Drobot
Mask Designer: Julia Lyatavskaya
Photographer: Nana Moon
Makeup artists: Elena Stazhilova, Ekaterina Fedorova, Nataliya Fedorova, Alina Ivershenko
Translator: Veronika Evdokimenko
Designer: Valeriy Chaika
We thank our partner for the provided locations: Photostudio Viktor Lisenko